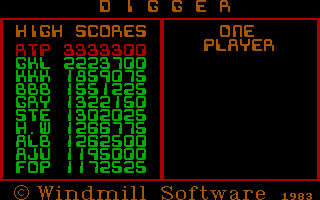 Loving would be easy if your colours were like my dreams,
Red, Gold and Green,
Red, Gold and Green.
- Karma Chameleon, Culture Club, 1983.

Introduction


Digger was originally created by Windmill software in 1983 and released as a copy-protected, bootable 5.25" floppy disk for the IBM PC. As it requires a genuine CGA card, it didn't work on modern PCs.

In 1998, I created Digger Remastered, which runs on all PCs with CGA or better and plays just like the original. It also has many new features, including:
Exit button
Optional VGA graphics
Recording and playback
Real time speed control
Keyboard redefinition
Gauntlet mode
Two player simultaneous mode
Highlights


Welcome to the official website of Digger Remastered. Here you will find everything Digger-related you could possibly want. While you are here you can:

Included with each version of the game is a text file which contains some of the information from this site.

Help wanted

As is abundantly clear from the tumbleweeds on the What's New page, I don't have much spare time to work on Digger at the moment. The Digger community desparately needs someone new to take over the project, update the website and do some much needed development on the game itself.

Are you that person?

This site was The 80s Server's "Totally Awesome site of the day" on January 25th, 1999.