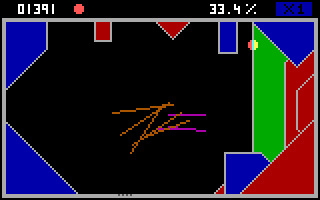 Welcome to Styx
Welcome to the official website of the amazing game "Styx", the game that tickles the imagination. Catch the wild and fast moving Styx in a small area by reclaiming territory. The Styx does not want to be caught and tries to get rid of you by touching you with his elastic legs. The Styx is helped by the caterpillar (the dots), that is moving around the edge of the reclaimed area. While playing you create a beautiful painting of brightly coloured pieces of reclaimed territory. That makes this game artistically exciting. This is a game requiring a lot of skill and strategy.
Styx was originally created by Windmill software in 1983 and released as a copy-protected, bootable 5.25" floppy disk for the IBM PC/XT. As it requires a genuine CGA card, it didn't work on modern PCs. In 1998 a new version was created by Andrew Jenner which runs on all PCs with CGA or better, whilst retaining all the atmosphere and playability of the original.
H i g h l i g h t s
On this website you will find everything Styx-related you could possibly want. While you are here you can:
Included with each version of the game is a text file which contains all the information of this site.